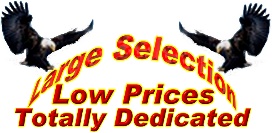 THE BARGAIN OUTLET WHOLESALE
Mail 608 S. 2nd Street
Marshall, Illinois 62441 United States
Phone: 217-822-6230
E-Mail: bargainoutletwholesale@gmail.com

---
Minimum Order: $100.00
14 items found: Page [ 1 ]
(*) in price column means Quantity Discounts Available!
Click on item name to see full details and picture if available.

Item #
Description
Price
Unit
jamesfl.r
1 Floral Messenger Bag
8" X 6.5" Very colorful bag with adjustable strap.

1.88
Ea. (Min. 6 Pcs.)
vedica5
5 Piece Die Cast Car Set
Variety of colors & designs.

* 1.30
Each - Minimum 3 Sets
vebigwh
5" Friction 4 X 4 Mini Monster Truck
Assorted colors & styles 4 X 4 Friction Monster Truck.

* 42.31
Dz.
capadunr
9" Unicorn Paddle Ball
Great prize for games, school carnivals, treasure chests, & more. Ball is on an elastic attached to a wooden paddle which when struck propels outward.

* 4.50
Dozen
jbunisl
9" Unicorn Slap Bracelet
Very cute & lots of fun! .959 Each when you buy 12 or .7296 each when you buy 144 slap bracelets.

* 11.50
Dz.
av-ofrbbr
Brown Bear Truck $3.85
8" 4 X 4 truck. $4.25 Each or $3.85 each (minimum 12 trucks).

* 4.25
Each - Minimum 3 Pcs.
frdcha4
Dream Catcher Hanger 4" .90 Each
Legend has it that dream catchers keep the bad dreams away. $1.15 Each (12 Dream Catchers) or .90 Each (minimum 120 Dream Catchers)

* 13.80
Dozen
inunirb
Rainbow Unicorn Inflate - 24"
Very cute multi color inflate.

21.00
Dz.
inuniemr
Unicorn Emoticon Inflatable - 24" $1.80
Colorful, bright unicorn balloon. We don't know for sure, but it's been said that unicorns are magical. A must for every little princess.

* 1.99
Each (Min. 6 Pcs.)
bakicwo
Woven Kickball - 2"
Knitted footbag (kick ball). Pass them out as party favors, rewards, carnival prizes, parade throws & more.

* 6.50
dozen
catreq
Z. CATALOG REQUEST
We'll be happy to send you an updated novelty catalog or gift catalog with pictures & prices.

CALL
Ea.
freefreightspec200
z. Freight = FREE Merchandise
Freight SPECIAL...FREE merchandise taken from inventory equal to the UPS ground freight charge on your order(1st price of item). Example: If your ground freight is $15.00, you will receive $15.00 of FREE merchandise. ******See full description for details.

CALL
$200 Online-Qty & Sale Prices Excluded
orderinfo
z. ORDERING INFORMATION
How To Order, Processing, Payment, Shipping, Warehouse Information, and More.

CALL
Per Order
TAF=FREE merchandise
z. TELL-A-FRIEND - Earn $25, $50, $100
TELL-A-FRIEND about THE BARGAIN OUTLET WHOLESALE and receive $25 FREE merchandise. SEE Full Description for details.

CALL
Each
14 items found: Page [ 1 ]
This is a SECURE web site.
Orders processed within 24-48 business hours (Pay Pal orders may require an extra business day).
*As an added security for your information, we DO NOT ask for the CVV number (last 3 - 4 digits on the back of your credit card) online. In order to expedite your order faster, please telephone 217-826-6230 or 217-822-6230 with the required information (9 A.M. - 5 P.M. CST)
Warehouse Visits: 24 Hour "Advance Order" online or by telephone required (you may add to order upon arrival). Warehouse visits by appointment only.
We NO longer accept orders by e-mail from unestablished clients.
Like us on Facebook https://www.facebook.com/jaxfollies. Informational site: festival and special events, tips for your business, product info, pending legislation, SPECIAL DISCOUNTS for Jax Follies Friends and more.
Festival, Parades, Flea Market Info.: https://sites.google.com/site/jaxfolliesfriends
Click here for our newsletter and special offers.