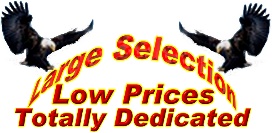 THE BARGAIN OUTLET WHOLESALE
Mail 608 S. 2nd Street
Marshall, Illinois 62441 United States
Phone: 217-822-6230
E-Mail: bargainoutletwholesale@gmail.com

---
Minimum Order: $100.00
30 items found: Page [ 1 ] [2] <Next Page>
(*) in price column means Quantity Discounts Available!
Click on item name to see full details and picture if available.

Item #
Description
Price
Unit
r70107
2 - 7" Porcelain Sleepy Indian Dolls On Rug (5 Piece)
MAKE A OFFER on these very cute..2 dolls on a faux fur rug with drums set.

21.35
Each
7895 B
Assisted Opening Folder Lock Blade Knife - MAKE A OFFER
MAKE A REASONABLE OFFER on 440 Stainless steel 4.5" Closed Assisted Opening Folder Lock Blade Knife.

6.69
Ea.
amfelb
Assisted Opening Lock Blades - SPECIAL LOW PRICE $4.08
3.5" - 4.5" Closed. 7.5" - 8" over-all L.

*6.69
Ea.
710
Black Rubber Handle Folding Knife
5" Over all length.

1.36
Ea.
sf4003
Champagne Party Poppers *SPECIAL $2.95
A burst of confetti flies out when the string is pulled.

*3.78
Box (MINIMUM 3 Boxes)
eoyclearancesale
End Of Year Clearance
SAVE BIG! REALLY BIG!

CALL
Per Item
nv1714
Extendable - Foldable Selfie Stick *Special $4.99
Extendable Folding Selfie Stick fits most smartphones & digital cameras. Taking self portraits & videos has never been easier. Perfect for traveling, video diaries, weddings, parties, concerts, sporting events, and more. No more asking others to take your picture. Assorted colors. As low as $4.99

*6.42
Each (Minimum 3 pcs.)
lk47030sv**
Fire Fighter Lock Blade W/Flames on Handle
7.5" Over all length lock blade knife. Special price of $5.36 each, minimum 5 ASSORTED knives.

6.69
Ea.
Asstlockblades
Folding Knife With Assisted Opening * Special Price
4.5" Folding 440 Stainless Steel Assisted Opening Blade. Knife Special....= $4.45 each, minimum 5 assorted styles. $29.81 Wholesale Value. SAVE AN ADDITIONAL $7.56!

4.45
Each - Min. 5 Assort Knives *Special Closeout
j42225
Glitter & Lace Leatherette Shoulder Bag Assort. *SPECIAL $3.47
Assorted colors - gold, silver, & black shoulder purse. Great for an evening bag.

*4.29
Ea. (Minimum 3 Pcs.)
a.61831y
Ivory Look 3" Folding Knife *$3.90 **$20% OFF
3" Pocket Knife with ivory look handle. *Special price - $3.90.

*4.87
Each
bkrk
Key Ring Knife
3 3/4" Over-all L. Knife with key ring.

1.36
Each (Minimum 3 pieces)
knifeassortment487
Knife Assortment - *$3.90 **20% OFF
Limited time special. Assorted style knives.

*4.87
Each
knspfk
Knives, Spoons, Forks Assortment
Knives, Spoons, Forks Assortment. 3 Pieces per package. Assortment includes knives, spoons and forks.

0.71
Per Package (Minimum 6 Packages)
LgLBKn
Lg. LockBlade Knives
All knives are larger lock blade pocket knives. These are assorted. You may request a specific knife, but all have limited availability, and we will substitute if the choice is not available.

*6.00
Each
mlhat
Marijuana Leaf Hat
Very detailed ball cap.

*3.50
Each
883
Multi Color 3" Wood Handle Lock Blade *3.90
Multi Wood Pocket Knife Special quantity price $3.90.

*4.87
Ea. *min. 3 Pcs. *QTY Price Limited to Asst Styles
fe.25/942
Palm Tree Picks
Foil palm trees on long wooden pick. Great for fruit, cheese or just to insert into a drink to make it more festive.

3.90
unit
peghooks
Peg Hooks 6" - 10" As low as .14
Standard. Fits 1/8" & 1/4" pegboard.

0.21
Each (Minimum 12 Pieces)
apprwolri
Pillow: Printed Wolf Pillow
13" Cute Pillow.

7.25
Each
plgalstri
Pillow: Galaxy Star Pillow * SPECIAL $5.72
Multi-color Star Pillow with galaxy prints. Galaxy Pillows SPECIAL $5.72

*9.00
Each - SPECIAL (36 p) there will be Credit Cd fee
103113123aa
Plastic 3 Piece Storage Containers With Snap On Lids
3 Size Storage Containers with lids.

3.59
Set (Minimum 3 Sets)
reblp
Rebel Flag License Plates
12 1/2" x 6 1/4" Metal License Plates. Assorted. HISTORY - NOT HATE.

*3.50
Each
nv1811p
Snorting Squeaking Squeeze Pig - Make A Offer
Squeeze pig to hear him snort. Very cute.

1.95
Ea. Min. 3 pieces
WTP
White Decorative Tissue Paper
20" X 26". 20 Sheets per package. As Low As .03 / sheet.

*7.85
Dozen packages (.66 / Package)
30 items found: Page [ 1 ] [2] <Next Page>
This is a SECURE web site.
*Please remember that the lower amount of your order, the higher the freight ratio is. We have NO control over the amount charged by USPS or UPS on your freight. We're stuck with the high freight charges too, on incoming freight.
Orders are processed within 48 business hours (Pay Pal orders may require an extra business day).
*As an added security for your information, we DO NOT ask for the CVV number (last 3 -4 digits on the back of your credit card) online. In order to expedite your order faster, please telephone 217-822-6230 with the required information (9 A.M. - 4 P.M. CST)
Warehouse Visits: 24 Hour "Advance Order" online or by telephone required (you may add to order upon arrival). Warehouse visits by appointment only.
We NO longer accept orders by e-mail from unestablished clients.
TELEPHONE ORDERS: All telephone orders MUST BE backed up by a written order by email. NO EXCEPTIONS.
Like us on Facebook https://www.facebook.com/jaxfollies. Informational site: festival and special events, tips for your business, product info, pending legislation, SPECIAL DISCOUNTS for Jax Follies Friends and more.
Festival, Parades, Flea Market Info.: https://sites.google.com/site/jaxfolliesfriends