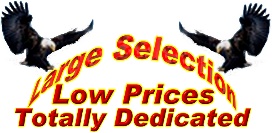 THE BARGAIN OUTLET WHOLESALE
Mail 608 S. 2nd Street
Marshall, Illinois 62441 United States
Phone: 217-822-6230
E-Mail: bargainoutletwholesale@gmail.com

---
Minimum Order: $100.00
42 items found: Page [ 1 ] [2] <Next Page>
(*) in price column means Quantity Discounts Available!
Click on item name to see full details and picture if available.

Item #
Description
Price
Unit
capadunr
9" Unicorn Paddle Ball
Great prize for games, school carnivals, treasure chests, & more. Ball is on an elastic attached to a wooden paddle which when struck propels outward.

*4.80
Dozen
f.30105-1040
Acrylic Ice
Acrylic Ice. 3/8" - 1".

*4.49
Ea Minimum 3 Bgs. 8 Bag price = ast colors only
13605770f
Best Friends Glitter Jelly Bracelet
Assorted colors.

*1.26
Dozen (minimum 3 dozen)
bombbagn
Bomb Bags $0.09
Exploding Bag. Great flea market or checkout impulse item!

*1.75
Per Dz.
nvhaircolor
Bright Color Hair Spray *SPECIAL $1.20
Assorted BRIGHT Colored Hair Spray is great for parties, dances, & more.

*1.40
Ea (Min 12 Pcs)
sf4003
Champagne Party Poppers *SPECIAL $2.84
A burst of confetti flies out when the string is pulled. SPECIAL 25% OFF!

*3.78
Box (MINIMUM 3 Boxes)
ljw0126
Dirty Face Soap - New LOWER PRICE $5.15
Looks like a normal bar of soap, but look-out...! SEE SPECIAL PRICING in Full Description.

*5.80
Dozen
jkdisin
Disappearing (Magic) Ink
3.5 oz. When squirted it appears dark blue. After a few minutes, it turns clear (disappears).

0.35
Each (Minimum 20 Pcs.)
nv1714
Extendable - Foldable Selfie Stick *Special $4.99
Extendable Folding Selfie Stick fits most smartphones & digital cameras. Taking self portraits & videos has never been easier. Perfect for traveling, video diaries, weddings, parties, concerts, sporting events, and more. No more asking others to take your picture. Assorted colors. As low as $4.99

*6.42
Each (Minimum 3 pcs.)
n63148a
Feather Hair Extensions
15.25" L. Feather Hair Extensions. Fashionable and very pretty.

*0.64
Ea. Min. 12 Pcs
fsa72
Fidget Spinner Deluxe Assortment $1.25
Assorted Styles Fidget Spinners....6 Different styles, assorted colors - patterns. .

*2.75
Each (Minimum 72 pcs.
00663ac
Fidget Spinners - GLOW IN THE DARK $1.25
Relieve stress, anxiety, boredom and more. Assorted colors.

*3.24
Each (Minimum 3 pieces)
1591njgid/nv
Fidget Spinners - Ninja Glow In The Dark $1.00 + FREE Merchandis
Assorted colors 2 Styles Ninja Glow-In-The-Dark Fidget Spinners. Help relieve anxiety, stress, boredom, nail biting, & more. Quality Spinners. BONUS - $25 FREE merchandise with $60 Spinner purchase (on you next order).

*3.24
Ea. Min. 3 Pcs.
1591pnv
Fidget Spinners - Pattern Series * $1.25
Assorted colors & printed pattern. Help relieve boredom, stress, anxiety, nervousness, & more.

*3.44
Each - Minimum 3 Pcs.
7990ac
Fidget Spinners - Solid Color $1.00
Spin'em, Twirl'em. Relieve stress with fidget spinners.

*2.52
Each (Minimum 12 Pcs.)
nv1159n
Flashing Pacifier Necklace
Pacifier flashes different colors. Batteries included.

*15.00
Dozen (Minimum 2 Dozen in lots of 2 dz. )
a.61831y
Ivory Look 3" Folding Knife *$3.90 **$20% OFF
3" Pocket Knife with ivory look handle. *Special price - $3.90.

*4.87
Each
fe8254
Kiddie Card Game Assortment SPECIAL $3.60
2' X 3" Assorted Card Games...Hearts, Old Maid, & Fish.

*4.80
Dozen
luhb
Light Up Hovering Ball *Compare & SAVE
Lights dance about as the pretty lighted ball hovers in the air.

*8.97
Each
kcthumbrclearance
Metal Hand Cuff Keyring - 3.5" *SPECIAL $4.59 **FREE FREIGHT
A.K.A. "Thumbcuffs". GREAT ITEM! SPECIAL $4.59 dozen. GO BIG or GO HOME!

*6.50
Dozen **FREE FREIGHT (6 Dz. Qty. Pricing Excluded
fe.4-42
Mini Christmas Santa Candles
Mini Christmas Santa Candles. 1.5" H. 36 Santas per display box. As LOW As .17 each.

*6.88
Per Box
m0041150
Mini Christmas Stocking **FREE Stockings
4" Felt Stocking. Assorted colors & patterns.

5.98
Dz. (3 FREE Stockings w/Dz. Purchase)
haspineri
Neon Spiky Baseball Hat - CLEARANCE SPECIAL $4.88
Bright neon spikes protrude from the front of a nylon baseball hat (Green, yellow, blue, and pink).

*7.50
Each / Cr. Cd processing fee on 22 pcs.
ngitdufopa
Ninja Glow In The Dark-UFO-Pattern Fidget Spinner Assort. $2.33
Get a lot of Bang for Your Buck! Now an even LOWER PRICE! Large selection of Fidget Spinners with less investment.

*2.73
Each (Minimum 72 pieces)
apprwolri
Pillow: Printed Wolf Pillow
13" Cute Pillow.

7.25
Each
42 items found: Page [ 1 ] [2] <Next Page>
This is a SECURE web site.
*Please remember that the lower amount of your order, the higher the freight ratio is. We have NO control over the amount charged by USPS or UPS on your freight. We're stuck with the high freight charges too, on incoming freight.
Orders are processed within 48 business hours (Pay Pal orders may require an extra business day).
*As an added security for your information, we DO NOT ask for the CVV number (last 3 -4 digits on the back of your credit card) online. In order to expedite your order faster, please telephone 217-822-6230 with the required information (9 A.M. - 4 P.M. CST)
Warehouse Visits: 24 Hour "Advance Order" online or by telephone required (you may add to order upon arrival). Warehouse visits by appointment only.
We NO longer accept orders by e-mail from unestablished clients.
TELEPHONE ORDERS: All telephone orders MUST BE backed up by a written order by email. NO EXCEPTIONS.
Like us on Facebook https://www.facebook.com/jaxfollies. Informational site: festival and special events, tips for your business, product info, pending legislation, SPECIAL DISCOUNTS for Jax Follies Friends and more.
Festival, Parades, Flea Market Info.: https://sites.google.com/site/jaxfolliesfriends