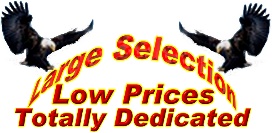 THE BARGAIN OUTLET WHOLESALE
Mail 608 S. 2nd Street
Marshall, Illinois 62441 United States
Phone: 217-822-6230
E-Mail: bargainoutletwholesale@gmail.com

---
Minimum Order: $100.00
30 items found: Page [ 1 ] [2] <Next Page>
(*) in price column means Quantity Discounts Available!
Click on item name to see full details and picture if available.

Item #
Description
Price
Unit
oct20deduction
$20 Gift Certificate - FREE
Limited time - Receive $20 OFF of your order.

CALL
$20 OFF 1st Price $200 Order
tm1886L
5 Oz. Punch Ladle
5 oz. Clear "Contessa" Pattern Punch Ladle.

0.99
Each (Minimum 3 pieces)
sy.5202
8.5" Lace Bridal Bouquet Holder
The Lace Bridal Bouquet Holder is what adds the great finishing touches to all of the hard work of the bridal bouquet.

* 7.85
Per Dozen
SY5104W
9" Porcelain Wedding Couple
9" Porcelain Bride & Groom. Very elegant.

8.50
Each
f.30105-1040
Acrylic Ice
Acrylic Ice. 3/8" - 1".

* 4.49
Ea Minimum 3 Bgs. 8 Bag price = ast colors only
BevNapSolCol
Banquet Beverage Napkins
2 Ply banquet grade. 50 Per package.

1.48
each (Minimum 4 packages)
tm.7pl
Banquet 7" Paper Plates
Wax coated. 24 Ct. / package.

* 1.96
each (Minimum. 8 Packages)
tm.9pp
Banquet 9" Paper Plates
24 / Package. Wax Coated.

* 2.47
Each (Minimum 4 pkgs.)
SY1384W
Bridal Couple
5.5" H Bisque Bridal Couple.

3.38
each (minimum. 3 pieces)
25rosespray
Burgundy Rose Spray $2.35 Special
25" Burgundy Rose Spray. SPECIAL..$2.35 is a SPECIAL PRICE.

* 3.50
Each
gobcandholdwfl
Candle Holder: 10" Goblet Candle Holder w/Flowers
Goblet candle holder with elegant white flowers & ribbon. Candle not included.

* 4.95
each
Y27226 - Y27227
Country Bread Board Plaques Special $4.12
Assortment "Welcome" and "Faith Family, Friends" Bread Boards.

* 5.50
Each (Min. 2 Pcs)
sy.5261
Dove Pen Holder
White.

* 4.88
each (MINIMUM 3)
nv1714
Extendable - Foldable Selfie Stick *Special $4.99
Extendable Folding Selfie Stick fits most smartphones & digital cameras. Taking self portraits & videos has never been easier. Perfect for traveling, video diaries, weddings, parties, concerts, sporting events, and more. No more asking others to take your picture. Assorted colors. As low as $4.99

* 6.42
Each (Minimum 3 pcs.)
boygbn
Fall - Thanksgiving Banquet Beverage Napkin Assortment
2 Ply banquet grade beverage napkins - burgundy, school bus yellow, orange, and gold.

* 1.48
Each Package (Min. 4 packages)
SYI.5114-5
Guest Book *Drastically REDUCED
Guest Book White w/ Gold Print on cover (this book could be used for open house, grand openings, anniversaries or weddings).

* 3.00
each
fbgyp
Gypsophilia Spray
White and assorted color assortment. Great filler flower for your floral arrangements.

10.15
Dozen (Min. 2 dozen)
tmp.2913c-grn
Heavy Duty Table Skirt - Green *$2.96
29" X 13' Table Skirt. Fits 8' banquet tables.

* 3.94
Each (Minimum 3 pcs)
nv1475
Inspirational Stones .54
Assorted colors and sayings per display box.

* 0.61
Each (Minimum 48 pieces)
jbrgr
Jack Bride & Groom
Jack Bride & Groom figurine. 4" H. Bisque.

* 14.64
Per Unit (6 pieces / unit)
LGBFL
Large Floral Gift Bag Assortment .83 *FREE FREIGHT
Assorted floral colors and patterns per dozen. See full description for FREE freight.

9.86
Per dozen *Free Freight
SY6442
Lead Crystal Clock $6.85
Very elegant.

* 7.65
Each
sf4003
Party Poppers *SPECIAL $2.95 Box (72 Pieces)
AKA Champagne Poppers. Popping, a burst of confetti when the string is pulled. Special $15 FREE Party Poppers with the purchase of 19 boxes of Party Poppers.

* 3.78
Box (Minimum 3 boxes)
j42225
Purses Glitter & Lace Leatherette Shoulder Bag Assortment $3.85
Assorted colors - gold, silver, & black shoulder purse. Great for an evening bag. SPECIAL $3.44 each (48 Shoulder Bags).

* 4.29
Ea. (Minimum 6 Pcs.)
tmp.284-wh
Round Plastic Banquet Tablecover
White Banquet 84" Round Heavy Weight Plastic Banquet Tablecover.

2.40
Each (Minimum 4 Pieces)
30 items found: Page [ 1 ] [2] <Next Page>
This is a SECURE web site.
*Please remember that the lower amount of your order, the higher the freight ratio is. We have NO control over the amount charged by USPS or UPS on your freight. We're stuck with the high freight charges too, on incoming freight.
Orders processed within 24-48 business hours (Pay Pal orders may require an extra business day).
*As an added security for your information, we DO NOT ask for the CVV number (last 3 -4 digits on the back of your credit card) online. In order to expedite your order faster, please telephone 217-822-6230 with the required information (9 A.M. - 4 P.M. CST)
Warehouse Visits: 24 Hour "Advance Order" online or by telephone required (you may add to order upon arrival). Warehouse visits by appointment only.
We NO longer accept orders by e-mail from unestablished clients.
Like us on Facebook https://www.facebook.com/jaxfollies. Informational site: festival and special events, tips for your business, product info, pending legislation, SPECIAL DISCOUNTS for Jax Follies Friends and more.
Festival, Parades, Flea Market Info.: https://sites.google.com/site/jaxfolliesfriends
Click here for our newsletter and special offers.