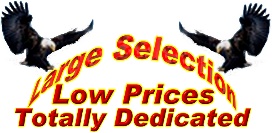 THE BARGAIN OUTLET WHOLESALE
Mail 608 S. 2nd Street
Marshall, Illinois 62441 United States
Phone: 217-822-6230
E-Mail: bargainoutletwholesale@gmail.com

---
Minimum Order: $100.00
57 items found: Page [ 1 ] [2] [3] [4] <Next Page>
(*) in price column means Quantity Discounts Available!
Click on item name to see full details and picture if available.

Item #
Description
Price
Unit
FreeSpecials
1 Warehouse Clearance - FREE Merchandise EXTRAVAGANZA!
Check the many "FREE" merchandise ITEMS with selected purchase. Great way to build inventory with less investment!

5.00
Dz.
jlbatmar/jlbatma
24" Batman - Superman Inflatables
Super Hero character figure toy balloon. Great decoration, prize, or party favor. Not for Retail sale. For Amusement Industry only.

* 27.00
Dozen
jlsup,ar
24" Superman Inflatable
Super Hero character figure toy balloon. Great decoration, prize, or party favor. Not for retail...amusement industry only.

* 27.00
Dozen
inclo40pcs
40" Clown Fish Inflate
Assorted colors.

1.65
Each *Min. 4 Pcs.
in-guisg
42" Rock Guitar
Assorted Colors.

* 11.25
Dozen
inclo27
Clown Fish Inflatable - 27"
Bright colored fish balloons. Great for prizes, party favors, rewards & more. HOT!

16.20
Dozen
inclo40
Clown Fish Inflate - 40"
Bright colors. HOT!

18.50
Dozen
20180530-60
Deluxe Inflate Assortment - 60 Pieces
Assortment of character, animal, sword, & guitar inflatables. Get more bang for your buck with little investment.

1.39
Each Piece (Minimum 60 pieces)
nddgo24
Diego Inflate - 24" *2 FREE
Not for children under 3. 2 FREE Diegos with each dozen purchase.

16.80
Dozen *2 FREE per dozen
in-dolpe_dz
Dolphin - 40" Pearlized Pink and Blue Dolphin
Also available in the "DELUXE INFLATE ASSORTMENT".

16.20
Per Dozen
indolpe_pc
Dolphin - 40" Pearlized Pink and Blue Dolphin Inflate (By Piece)
Very popular item! Also available in quantity pricing....see item by the dozen.

1.45
Each (Minimum 4 pieces)
indolt2
Dolphin: 24" Pink and Blue Pearlized Dolphin Inflate
Not for children under 3.

* 11.50
Dozen
indoltr
Dolphin: Transparent Dolphin Inflate - 36"
Kids will love these playful looking dolphins.

* 16.20
Dz.
indolga
Dolphin_36" Galaxy Dolphin Inflate $1.50
Ages 3+

18.00
Dozen
nd-dor24
Dora The Explorer Inflate
Not for Retail Sales. For Amusement Industry ONLY.

22.98
Per Dozen
57 items found: Page [ 1 ] [2] [3] [4] <Next Page>
This is a SECURE web site.
Orders processed within 24-48 business hours (Pay Pal orders may require an extra business day).
*As an added security for your information, we DO NOT ask for the CVV number (last 3 - 4 digits on the back of your credit card) online. In order to expedite your order faster, please telephone 217-826-6230 or 217-822-6230 with the required information (9 A.M. - 5 P.M. CST)
Warehouse Visits: 24 Hour "Advance Order" online or by telephone required (you may add to order upon arrival). Warehouse visits by appointment only.
We NO longer accept orders by e-mail from unestablished clients.
Like us on Facebook https://www.facebook.com/jaxfollies. Informational site: festival and special events, tips for your business, product info, pending legislation, SPECIAL DISCOUNTS for Jax Follies Friends and more.
Festival, Parades, Flea Market Info.: https://sites.google.com/site/jaxfolliesfriends
Click here for our newsletter and special offers.