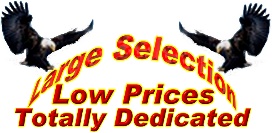 THE BARGAIN OUTLET WHOLESALE
Mail 608 S. 2nd Street
Marshall, Illinois 62441 United States
Phone: 217-822-6230
E-Mail: bargainoutletwholesale@gmail.com

---
Minimum Order: $100.00
108 items found: Page [ 1 ] [2] [3] [4] [5] <Next Page>
(*) in price column means Quantity Discounts Available!
Click on item name to see full details and picture if available.

Item #
Description
Price
Unit
veschb5.rn
5" Die Cast School Bus - *SPECIAL
Make a REASONABLE OFFER on the 5" Yellow Die-Cast School Bus. Pull back action.

3.29
Each (Minimum 3 Pieces)
5511TB
5511 TB Goggle Sunglasses - Fits Over Prescription Glasses $2.50
Amber lens. Fits over most prescription glasses. *See full description for SPECIAL PRICING.

1.21
Each (Minimum 11 Pcs.)
f.20-78
6" Plastic Flying Fist Special $0.29
Squeeze handle & propel fist through the air.

*0.32
Minimum 12 Pieces
6178 CP/FM_2nd
6178 Copper Flash Mirror Driving Sunglasses - 2nds $2.00
Copper Flash Mirror Driving Sunglasses - 2nd's. SPECIAL .167 per pair. GIVE 'EM AWAY, SELL 'EM for $1.00, etc.

2.00
Per Dozen (.2 dozen limit)
aliennk
Alien & Stone Pendant on Black Cord Necklace Assortment $0.41
Alien pendant on chord necklace and stone on chord necklace.

*7.20
per dozen
Y13272/Y13275/Y13276
Apple Wall Plaque- Trivet With Bow, Towel Ring, & Wall Pocket
Apple Wall Plaque- Trivet With Bow, Towel Ring, & Wall Pocket.

*14.97
Each Assortment
7895 B
Assisted Opening Folder Lock Blade Knife - MAKE A OFFER
MAKE A REASONABLE OFFER on 440 Stainless steel 4.5" Closed Assisted Opening Folder Lock Blade Knife.

6.69
Ea.
amfelb
Assisted Opening Lock Blades - SPECIAL LOW PRICE $4.08
3.5" - 4.5" Closed. 7.5" - 8" over-all L.

*6.69
Ea.
bommt
B.O. Musical Magic Train $5.87
Battery operated bump "n" go action.

*10.75
Each
ty-25608
Big Wheel Trucks - SPECIAL MAKE AN OFFER
Assorted colors - 9.31". Trucks can be raised & lowered.

31.56
Dozen
fb53143steals&deals
Black Cat - 12" Plush *SPECIAL - SPECIAL $1.70
12" Very soft black cat plush.

*2.25
Each (Min. 3 pieces)
710
Black Rubber Handle Folding Knife
5" Over all length.

1.36
Ea.
bombbagn
Bomb Bags $0.09167
Exploding Bag. Great flea market or checkout impulse item!

*1.75
Per Doz
nvhaircolor
Bright Color Hair Spray *SPECIAL $1.20
Assorted BRIGHT Colored Hair Spray is great for parties, dances, & more.

*1.40
Ea (Min 12 Pcs)
25rosespray
Burgundy Rose Spray $2.35 Special
25" Burgundy Rose Spray. SPECIAL..$2.35 is a SPECIAL PRICE.

*3.50
Each
sf4003
Champagne Party Poppers *SPECIAL $2.95
A burst of confetti flies out when the string is pulled.

*3.78
Box (MINIMUM 3 Boxes)
8401SD
Children's Oval With Sunglass String *$2.50
Children's super dark lenses; frames - assorted colors. **SEE Sunglasses SPECIAL PRICING.**

*10.40
Dozen (Special 6 Dz. $5 Dz. Assorted styles)
chrteaset
Christmas Tea Set **$2.70
Christmas 10 Pc. Tea Set.

*3.60
Per Set
cwga
Christmas Water Globe Assortment
Christmas Water Globe Assortment. 3" H.

3.23
Per Unit (6 Pieces)
4109 CM
Clip Ons - Color Mirror $2.50
Color Mirror Clip On Sunglasses. Clips on over prescription glasses. **SEE SPECIAL

*13.15
Dozen **Special (6 Dz+ - $5 / $3.95 Dz ASSORTED St
clownasst
Clown Assortment
Assorted Resin clown figurines. Approx. 5" to 5.5" H. LIMITED SUPPLY.

*5.40
each
Y27226 - Y27227
Country Bread Board Plaques Special $4.12
Assortment "Welcome" and "Faith Family, Friends" Bread Boards.

*5.50
Each (Min. 2 Pcs)
hastshe
Cowboy Hat With Star - $1.3958
Children's Straw Hats with a star. Trimmed in red or blue.

*19.75
Dozen
SYI.3075ww
Curling Ribbon - White
White Curling Ribbon 3/16" x 500 yds. SPECIAL LOW PRICE.

*1.85
Each
ljw0126
Dirty Face Soap - New LOWER PRICE $5.15
Looks like a normal bar of soap, but look-out...! SEE SPECIAL PRICING in Full Description.

*5.80
Dozen
108 items found: Page [ 1 ] [2] [3] [4] [5] <Next Page>
This is a SECURE web site.
*Please remember that the lower amount of your order, the higher the freight ratio is. We have NO control over the amount charged by USPS or UPS on your freight. We're stuck with the high freight charges too, on incoming freight.
Orders are processed within 48 business hours (Pay Pal orders may require an extra business day).
*As an added security for your information, we DO NOT ask for the CVV number (last 3 -4 digits on the back of your credit card) online. In order to expedite your order faster, please telephone 217-822-6230 with the required information (9 A.M. - 4 P.M. CST)
Warehouse Visits: 24 Hour "Advance Order" online or by telephone required (you may add to order upon arrival). Warehouse visits by appointment only.
We NO longer accept orders by e-mail from unestablished clients.
TELEPHONE ORDERS: All telephone orders MUST BE backed up by a written order by email. NO EXCEPTIONS.
Like us on Facebook https://www.facebook.com/jaxfollies. Informational site: festival and special events, tips for your business, product info, pending legislation, SPECIAL DISCOUNTS for Jax Follies Friends and more.
Festival, Parades, Flea Market Info.: https://sites.google.com/site/jaxfolliesfriends