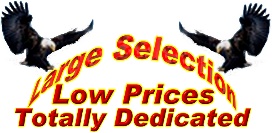 THE BARGAIN OUTLET WHOLESALE
Mail 608 S. 2nd Street
Marshall, Illinois 62441 United States
Phone: 217-822-6230
E-Mail: bargainoutletwholesale@gmail.com

---
Minimum Order: $100.00
15 items found: Page [ 1 ]
(*) in price column means Quantity Discounts Available!
Click on item name to see full details and picture if available.

Item #
Description
Price
Unit
oct20deduction
$20 Gift Certificate - FREE
Limited time - Receive $20 OFF of your order.

CALL
$20 OFF 1st Price $200 Order
Christmasgarland
47.65Holly, Poinsettia, Icicle W/ Berries Garland $7.6375
Poinsettia, Holly and Glistening Long Icicles With Berries Assortment (assorted color berries).

* 10.47
Dz.
sy.5202
8.5" Lace Bridal Bouquet Holder
The Lace Bridal Bouquet Holder is what adds the great finishing touches to all of the hard work of the bridal bouquet.

* 7.85
Per Dozen
f.30105-1040
Acrylic Ice
Acrylic Ice. 3/8" - 1".

* 4.49
Ea Minimum 3 Bgs. 8 Bag price = ast colors only
25rosespray
Burgundy Rose Spray $2.35 Special
25" Burgundy Rose Spray. SPECIAL..$2.35 is a SPECIAL PRICE.

* 3.50
Each
els
Eucalyptus
Long-stemmed 24.5" L silk floral. Looks very realistic.

6.45
Per dozen (minimum 2 dozen)
fb.ffssspr
French Statice Spray - .43
32" H Assorted colors. $5.08 Dozen ASSORTED STYLES Silk Flowers. See Full Description for details.

* 10.15
Dz. Min. 2 Dz / $5.08 Dz. 48 Dz. Assorted Styles
fbgyp
Gypsophilia Spray
White and assorted color assortment. Great filler flower for your floral arrangements.

10.15
Dozen (Min. 2 dozen)
LSI_B
Icicles Swag With Berries Assortment - SPECIAL 50% OFF
6' Long Icicles Swag With Berries Assortment.

* 10.15
Per Dz. . (SPECIAL 50% OFF 2 Dz.)
jbrgr
Jack Bride & Groom
Jack Bride & Groom figurine. 4" H. Bisque.

* 14.64
Per Unit (6 pieces / unit)
mdseasstsample
Sample Pack - Merchandise General Assortment
Merchandise Sample General Merchandise Assortments. Large Selection at a LOW Price!

55.00
Per Sample Collection
Special
Silk Flowers - WAREHOUSE SPECIAL
Assorted silk flowers. Assorted styles & colors. SAVE 50%! See full description for details.

* 10.15
Dz ( ASSORTED STYLES Only)
silgolbebo
Silver & Gold Bells With Bow
Silver & Gold Bells With Red Bow. 1"H X 1"W. 12 Bells per package.

* 9.65
Per Dozen Packages
orderinfo
z. ORDERING INFORMATION
How To Order, Processing, Payment, Shipping, Warehouse Information, and More.

CALL
Per Order
catreq
zz. CATALOG REQUEST
We'll be happy to send you an updated novelty catalog or gift catalog with pictures & prices.

CALL
Ea.
15 items found: Page [ 1 ]
This is a SECURE web site.
*Please remember that the lower amount of your order, the higher the freight ratio is. We have NO control over the amount charged by USPS or UPS on your freight. We're stuck with the high freight charges too, on incoming freight.
Orders processed within 24-48 business hours (Pay Pal orders may require an extra business day).
*As an added security for your information, we DO NOT ask for the CVV number (last 3 -4 digits on the back of your credit card) online. In order to expedite your order faster, please telephone 217-822-6230 with the required information (9 A.M. - 4 P.M. CST)
Warehouse Visits: 24 Hour "Advance Order" online or by telephone required (you may add to order upon arrival). Warehouse visits by appointment only.
We NO longer accept orders by e-mail from unestablished clients.
Like us on Facebook https://www.facebook.com/jaxfollies. Informational site: festival and special events, tips for your business, product info, pending legislation, SPECIAL DISCOUNTS for Jax Follies Friends and more.
Festival, Parades, Flea Market Info.: https://sites.google.com/site/jaxfolliesfriends
Click here for our newsletter and special offers.