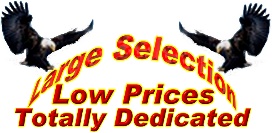 THE BARGAIN OUTLET WHOLESALE
Mail 608 S. 2nd Street
Marshall, Illinois 62441 United States
Phone: 217-822-6230
E-Mail: bargainoutletwholesale@gmail.com

---
Minimum Order: $100.00
34 items found: Page [ 1 ] [2] [3] <Next Page>
(*) in price column means Quantity Discounts Available!
Click on item name to see full details and picture if available.

Item #
Description
Price
Unit
tm1886L
5 Oz. Punch Ladle
5 oz. Clear "Contessa" Pattern Punch Ladle.

0.99
Each (Minimum 3 pieces)
ha-boa.r
6' FEATHER BOAS 60gr
Great for dances, carnivals, New Year's party's, Halloween, dress up, and more.

* 3.75
Each (minimum 3 pieces per color))
39-344f
7.25" Plastic Hand Clappers .215
Bright colors.

* 3.50
Dozen
aab.rn
AA Batteries
Shrink wrapped.

* 2.40
Per dozen (Minimum 5 Dz.)
BevNapSolCol
Banquet Beverage Napkins
2 Ply banquet grade. 50 Per package. 9 7/8" X 9 7/8".

1.48
each (Minimum 4 packages)
tm.7pl
Banquet 7" Paper Plates
Wax coated. 24 Ct. / package.

* 1.96
each (Minimum. 8 Packages)
tm.9pp
Banquet 9" Paper Plates
24 / Package. Wax Coated.

* 2.47
Each (Minimum 4 pkgs.)
paprblout
Blowouts: Paper Foil Blowouts
Paper Foil Blowouts 50 pcs. per bag. Assorted colors.

7.08
per unit
bombbagn
Bomb Bags .0833
Exploding Bag. Great flea market or checkout impulse item!

* 1.25
Per Doz ( Min. 6 Dz) Sold in increments of 6 dz.
catreq
CATALOG REQUEST
We'll be happy to send you an updated catalog.

CALL
Ea.
nvhaircolor
Color Hair Spray *FREE Color Spray
Assorted BRIGHT colors per display.

* 1.40
Each (Minimum 12 pieces) *2 FREE W/12 pc purchased
dfta
Deluxe Full Feather Tiara Assortment .756
50 Full Feather Tiaras per box.

* 50.40
Per box of 50
nv1714
Extendable - Foldable Selfie Stick Special $4.99
Fits most smartphones & digital cameras. Taking self portraits and videos has never been easier. Perfect for traveling, video diaries, weddings, parties, concerts, sporting events, and more. No more asking others to take your picture. Assorted colors. As low as $4.99

* 6.42
Each (Minimum 3 pcs.)
glbumri
Flashing Bumpy Rings - .38
Squeeze the 1.5" rubber ring to trigger a multi-color light show.

* 5.75
Dozen
nv1159n
Flashing Pacifier Necklace $0.805 Each
Pacifier flashes different colors. Batteries included.

* 13.20
Dozen (Minimum 2 Dozen in lots of 2 dz. )
34 items found: Page [ 1 ] [2] [3] <Next Page>
This is a SECURE web site.
Orders processed within 24-48 business hours (Pay Pal orders may require an extra business day).
Warehouse Visits: 24 Hour "Advance Order" online or by telephone required (you may add to order upon arrival). Warehouse visits by appointment only.
We NO longer accept orders by e-mail from unestablished clients.
Like us on Facebook https://www.facebook.com/jaxfollies. Informational site: festival and special events, tips for your business, product info, pending legislation, SPECIAL DISCOUNTS for Jax Follies Friends and more.
Festival, Parades, Flea Market Info.: https://sites.google.com/site/jaxfolliesfriends