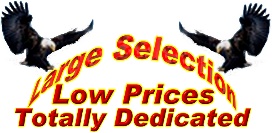 THE BARGAIN OUTLET WHOLESALE
Mail 608 S. 2nd Street
Marshall, Illinois 62441 United States
Phone: 217-822-6230
E-Mail: bargainoutletwholesale@gmail.com

---
Minimum Order: $100.00
19 items found: Page [ 1 ] [2] <Next Page>
(*) in price column means Quantity Discounts Available!
Click on item name to see full details and picture if available.

Item #
Description
Price
Unit
pfb16
Blowouts: 16" Paper Foil Blowouts
Assorted colors. 100 blowouts per bag.

14.16
per bag
paprblout
Blowouts: Paper Foil Blowouts
50 Pieces per bag. Assorted colors.

7.08
per unit
Christmas Eraser
Christmas Eraser Assortment 0.0573
Assorted Christmas Erasers. 60 Pieces per tub.

* 4.30
per unit
cc
Color Crayons
64 Piece Color Crayon Assortment.

0.75
per box (Minim 6 Boxs)
fsa72
Fidget Spinner Deluxe Assortment $1.25 + *Free Merchandise
Assorted Styles Fidget Spinners....6 Different styles, assorted colors - patterns. BONUS - $25 FREE merchandise with $100 Spinner purchase (on you next order).

1.25
Each (Minimum 72 pcs. *$25 FREE Mds. $100 Spinner
ngitdufopatcolgid
Fidget Spinner Ninja G.I.T.D - UFO - Pattern Assortment $1.00
Get an assortment of quality fidget spinners with less investment. ***SPECIAL - PRICES SLASHED! LOWER PRICES!***AS LOW AS $1.00!***

* 2.73
Ea. Min. 12 Pcs.
84pkgasst
Fidget Spinner PACKAGE ASSORTMENT - LOWER PRICE
Prices & Minimums have been SLASHED! Get a variety of Fidget Spinner styles for less investment! BONUS - $25 FREE merchandise with $50 Spinner purchase (on you next order).

1.67
Each Minimum 84 pieces *Cash & Carry FREE Mdse $50
00663ac
Fidget Spinners - GLOW IN THE DARK $1.25 + *Free Mdse
Relieve stress, anxiety, boredom and more. Assorted colors. $25 FREE merchandise with $50 Spinner purchase (on you next order).

* 3.24
Each (Minimum 12 pieces)
fhpf
Foil Horn With Paper Fringe
Paper Foil Horn with plastic mouth piece & paper fringe.

1.72
Per dozen
kiddieanrgs
Kiddie Animal Ring Assortment **Special Pricing***
6 Dozen assorted animal rings per display box.

* 4.30
Per display **(SEE SPECIAL)
ppm
Paper Play Money .04
Play money in assorted denominations.

* 6.02
per gross (144 pieces)
pillpuzwatch
Pill Puzzle Watch Special $5.75
Assorted...Green, Blue & Orange Pill Puzzle Watch. YOUR COST is ONLY .05 each.

* 11.75
Gross (144 Pieces)
fe.39/14V
Plastic Jumping Frogs *$2.25
Assorted Colors. Great for grab bags, piņatas, treasure chests, games, & more.

* 2.80
Per Gross
3l123540
Stretchy Flying Monkeys
Assorted colors.

1.27
Dozen (Minimum 3 dozen)
rdsuper
Super Hero Rubber Duck - 2"
2? Rubber ducks with assorted super hero garb. Great for bath time fun, party favors, carnival prizes, duck ponds, & more.

* 5.25
Dozen
19 items found: Page [ 1 ] [2] <Next Page>
This is a SECURE web site.
Orders processed within 24-48 business hours (Pay Pal orders may require an extra business day).
*As an added security for your information, we DO NOT ask for the CVV number (last 3 - 4 digits on the back of your credit card) online. In order to expedite your order faster, please telephone 217-826-6230 or 217-822-6230 with the required information (9 A.M. - 5 P.M. CST)
Warehouse Visits: 24 Hour "Advance Order" online or by telephone required (you may add to order upon arrival). Warehouse visits by appointment only.
We NO longer accept orders by e-mail from unestablished clients.
Like us on Facebook https://www.facebook.com/jaxfollies. Informational site: festival and special events, tips for your business, product info, pending legislation, SPECIAL DISCOUNTS for Jax Follies Friends and more.
Festival, Parades, Flea Market Info.: https://sites.google.com/site/jaxfolliesfriends
Click here for our newsletter and special offers.