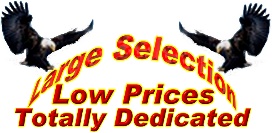 THE BARGAIN OUTLET WHOLESALE
Mail 608 S. 2nd Street
Marshall, Illinois 62441 United States
Phone: 217-822-6230
E-Mail: bargainoutletwholesale@gmail.com

---
Minimum Order: $100.00
25 items found: Page [ 1 ] [2] <Next Page>
(*) in price column means Quantity Discounts Available!
Click on item name to see full details and picture if available.

Item #
Description
Price
Unit
ha-boarb
6' FEATHER BOAS 60gr - Rainbow
Great for dances, carnivals, New Year's party's, Halloween, dress up, and more.

* 4.10
Each (minimum 3 pieces per color))
ac1001717
Archery Set With Knife - 27" $1.488
This 27" bow and arrow set includes a bow, plastic knife, three soft arrows with suction cups on the ends and target. As low As $17.85 per dozen ($1.49).

* 19.89
Dozen
dfta
Deluxe Full Feather Tiara Assortment .756
50 Full Feather Tiaras per box.

* 50.40
Per box of 50
fboap
Feather Boa - Pink
6' - 60 g. Great for dances, parties, play dates, Valentine's Day, & more.

* 4.10
Each Minimum 3 pcs.
vbfg
Fingerless Driving- Biker - Exercise Gloves -2 FREE
Black Vinyl Fingerless Driving, Biker & Exercise Gloves. One size fits most. 2 FREE with each dozen.

13.20
Dozen (2 Free With each dozen)
glbumri
Flashing Bumpy Rings - .38
Squeeze the 1.5" rubber ring to trigger a multi-color light show.

* 5.75
Dozen
23247ac
Flashing Dragon Handle Sword With Sound - 25" L
Lights up. Sound.. Dragon head on handle.

* 2.00
Ea. Min. 12 pcs *24 PCS MIN SWORDS SHIPPED
ldc0079
Giant's Google Eye Glasses *SPECIAL .87
Google eye nerd glasses. Great party item. See full description for SPECIAL.

* 1.05
Each - Minimum 6 Pieces
fe/fgc
Gold Foil Crown *Warehouse Special $0.12
4" H. X 24" L. foil crown. Great for all your little princesses & princes. A pageant must.

* 1.80
Dozen
fb.hrnk
Halloween Reflector Necklace Assortment .63
Halloween Reflector Necklace Assortment. Each reflector is on a long cord to help keep the little goblins safe.

* 9.68
dozen
ty13363
Light Up Assault Sword With Sound Assortment - 27"
Lights in handle and blade with sound.

* 2.00
Ea.Min 12 Pcs (24 MIN. SWORDS SHIPPED
nv1403slc
Light Up - Flashing Slotted Colored Glasses $1.2625
Assorted colors..LED Slotted Glasses. **BACK BY POPULAR DEMAND!

* 18.00
Dozen
22529ac
Light Up Flashing Katana Sword With Sound - 26" $1.70
Lights up. Sound. Great perceived value!

* 2.00
Each Minimum 12 pieces *24 MIN. SWORDS SHIPPED
n3016
Light Up Flashing Mouth Piece # 1 Light Up
A MUST FOR DANCES & NEW YEARS PARTIES! Hot, HOT ITEM!

* 10.75
Dozen (2 Dz increments)
luswasst-24
Light Up Sword Assortment $1.70
Get a variety of swords with minimal investment.

1.70
Each (Minimum 72 pieces)
25 items found: Page [ 1 ] [2] <Next Page>
This is a SECURE web site.
Orders processed within 24-48 business hours (Pay Pal orders may require an extra business day).
*As an added security for your information, we DO NOT ask for the CVV number (last 3 - 4 digits on the back of your credit card) online. In order to expedite your order faster, please telephone 217-826-6230 or 217-822-6230 with the required information (9 A.M. - 5 P.M. CST)
Warehouse Visits: 24 Hour "Advance Order" online or by telephone required (you may add to order upon arrival). Warehouse visits by appointment only.
We NO longer accept orders by e-mail from unestablished clients.
Like us on Facebook https://www.facebook.com/jaxfollies. Informational site: festival and special events, tips for your business, product info, pending legislation, SPECIAL DISCOUNTS for Jax Follies Friends and more.
Festival, Parades, Flea Market Info.: https://sites.google.com/site/jaxfolliesfriends