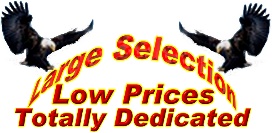 THE BARGAIN OUTLET WHOLESALE
Mail 608 S. 2nd Street
Marshall, Illinois 62441 United States
Phone: 217-822-6230
E-Mail: bargainoutletwholesale@gmail.com

---
Minimum Order: $100.00
40 items found: Page [ 1 ] [2] <Next Page>
(*) in price column means Quantity Discounts Available!
Click on item name to see full details and picture if available.

Item #
Description
Price
Unit
inbaspo
"POW" Bat Inflate - 20"
Assorted colors. ***Estimated arrival - approximately 8-25-22.***

8.75
Dozen
vepbcarrn
3.75" Classic Pull Back Cars .4375
Vivid variety of colors & styles of pull back cars.

*7.20
Dozen
vedica5
5 Piece Die Cast Car Set
Variety of colors & designs.

*2.00
Each - Minimum 3 Sets
capadunr
9" Unicorn Paddle Ball
Great prize for games, school carnivals, treasure chests, & more. Ball is on an elastic attached to a wooden paddle which when struck propels outward.

*6.00
Dozen
13605770f
Best Friends Glitter Jelly Bracelet
Assorted colors.

*1.26
Dozen (minimum 3 dozen)
ty-25608
Big Wheel Trucks - SPECIAL MAKE AN OFFER
Assorted colors - 9.31". Trucks can be raised & lowered.

31.56
Dozen
pfb16
Blowouts: 16" Paper Foil Blowouts
Assorted colors. 100 blowouts per bag.

14.16
per bag
nvhaircolor
Bright Color Hair Spray
Assorted BRIGHT Colored Hair Spray is great for parties, dances, & more.

1.40
Ea (Min 12 Pcs) 36 FREE Party Poppers w/12 Cans
cc
Color Crayons
64 Piece Color Crayon Assortment.

0.75
per box (Minim 6 Boxs)
jbslaem
Emoticon Slap Bracelet 9" $0.77
Slap the wrist with the bracelet and watch it coil around the wrist.

*11.75
Dozen
00663ac
Fidget Spinners - GLOW IN THE DARK $1.25
Relieve stress, anxiety, boredom and more. Assorted colors.

*3.24
Each (Minimum 3 pieces)
1591njgid/nv
Fidget Spinners - Ninja Glow In The Dark $1.00 + FREE Merchandis
Assorted colors 2 Styles Ninja Glow-In-The-Dark Fidget Spinners. Help relieve anxiety, stress, boredom, nail biting, & more. Quality Spinners. BONUS - $25 FREE merchandise with $60 Spinner purchase (on you next order).

*3.24
Ea. Min. 3 Pcs.
1591pnv
Fidget Spinners - Pattern Series * $1.25
Assorted colors & printed pattern. Help relieve boredom, stress, anxiety, nervousness, & more.

*3.44
Each - Minimum 3 Pcs.
7990ac
Fidget Spinners - Solid Color $1.00
Spin'em, Twirl'em. Relieve stress with fidget spinners.

*2.52
Each (Minimum 12 Pcs.)
n1591ufo/nv
Fidget Spinners - UFO $1.00
Relieve tension, stress, anxiety & more. Quality Spinners.

*2.57
Ea. Min. 12 Pcs *
nv1159n
Flashing Pacifier Necklace
Pacifier flashes different colors. Batteries included.

*15.00
Dozen (Minimum 2 Dozen in lots of 2 dz. )
fe.85-009v
Frosted 2 Tone Hi Bounce Balls
1 3/8" (35MM) Frosted 2 Tone Hi Bounce Balls.

*2.16
Dozen
in-guifl
Guitar: 42" Flame Guitar
Great item! An air guitar must.

13.80
Per Dozen
BB016812aa
Helicopters $1.09
Pull back action. Assorted Colors.

*1.20
Each Minimum 12 Pieces
24-1653f
Inspirational Sayings Bracelets
Inspirational Sayings: "Hope, Faith, Courage, Love, Courage,and Dream".

2.87
Unit (2 Dz.)
nv1403slc
Light Up - Flashing Slotted Colored Glasses $1.2625
Assorted colors...LED Slotted Glasses. A light-up must for street dances, night parties, parades & more.

19.20
Dozen
kcthumbr
Metal Hand Cuff Key Ring 5" *SPECIAL - MAKE AN OFFER
GREAT ITEM! SPECIAL MAKE AN OFFER on Metal Hand Cuff Key Rings.

*7.50
Dozen
niba325n
Neon Crackle Bracelet *Special $0.52
Bright neon colored bracelets in a display canister.

*0.65
Each (Minimum 12 pieces)
wgneon6
Neon Water Squirter - 6.5"
Assortment of neon colors. Easy to fill.

*8.50
Dz.
ngitdufopa
Ninja Glow In The Dark-UFO-Pattern Fidget Spinner Assort. $2.33
Get a lot of Bang for Your Buck! Now an even LOWER PRICE! Large selection of Fidget Spinners with less investment.

*2.73
Each (Minimum 72 pieces)
40 items found: Page [ 1 ] [2] <Next Page>
This is a SECURE web site.
*Please remember that the lower amount of your order, the higher the freight ratio is. We have NO control over the amount charged by USPS or UPS on your freight. We're stuck with the high freight charges too, on incoming freight.
Orders are processed within 48 business hours (Pay Pal orders may require an extra business day).
*As an added security for your information, we DO NOT ask for the CVV number (last 3 -4 digits on the back of your credit card) online. In order to expedite your order faster, please telephone 217-822-6230 with the required information (9 A.M. - 4 P.M. CST)
Warehouse Visits: 24 Hour "Advance Order" online or by telephone required (you may add to order upon arrival). Warehouse visits by appointment only.
We NO longer accept orders by e-mail from unestablished clients.
TELEPHONE ORDERS: All telephone orders MUST BE backed up by a written order by email. NO EXCEPTIONS.
Like us on Facebook https://www.facebook.com/jaxfollies. Informational site: festival and special events, tips for your business, product info, pending legislation, SPECIAL DISCOUNTS for Jax Follies Friends and more.
Festival, Parades, Flea Market Info.: https://sites.google.com/site/jaxfolliesfriends